Site created by University of the Pacific students:
Jillian Simpson, Maclean Vu, Harrison Rich, and Isabel Galvan.
---
Special thanks to Lee Stetson for providing our audio narrations of John Muir. Lee Stetson portrays John Muir in a theatrical performance in Yosemite Valley.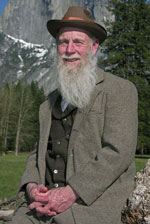 Special thanks to Margo Praus and Richard Abood, members of the Stockton Delta-Sierra Club, as well as the other members of the club for participating in an interview with us.